October Photography Month (OctoPhoMo) has been a delightful part of my Fall festivities and so it continues this year. It's all happening on my Instagram
@abbiesadventures
along with the rest of my crazy Fall festivities. At the end of the day, I'd post the day's photograph right here so I have a collection of 30 photographs of October 2017 on the same page. An important theme this year is Harry Potter because I have rekindled my fandom that I partially let go somewhere in my twenties because of academic/personal pressures. It's all coming back in quadruple folds!
Oct 01 A photo of whatever you wish!
Starting the season off on a Fall note. Here's my Starbucks Fall spread!
Oct 02 Potion OR Cauldron
ruA Harry Potter room makeover is underway at Abbie's Headquarters (my room/office) and is set for revelation in January 2018. On my list is a section of my shelf dedicated to Potions class (I need a Severus Snape Funko Pop!) and this Halloween I found the perfect potions gear! I need some bottle labels now.
Oct 03 Broom OR Scarecrow
Presenting Abbie's first Fall dance. Photo courtesy: Sara Writes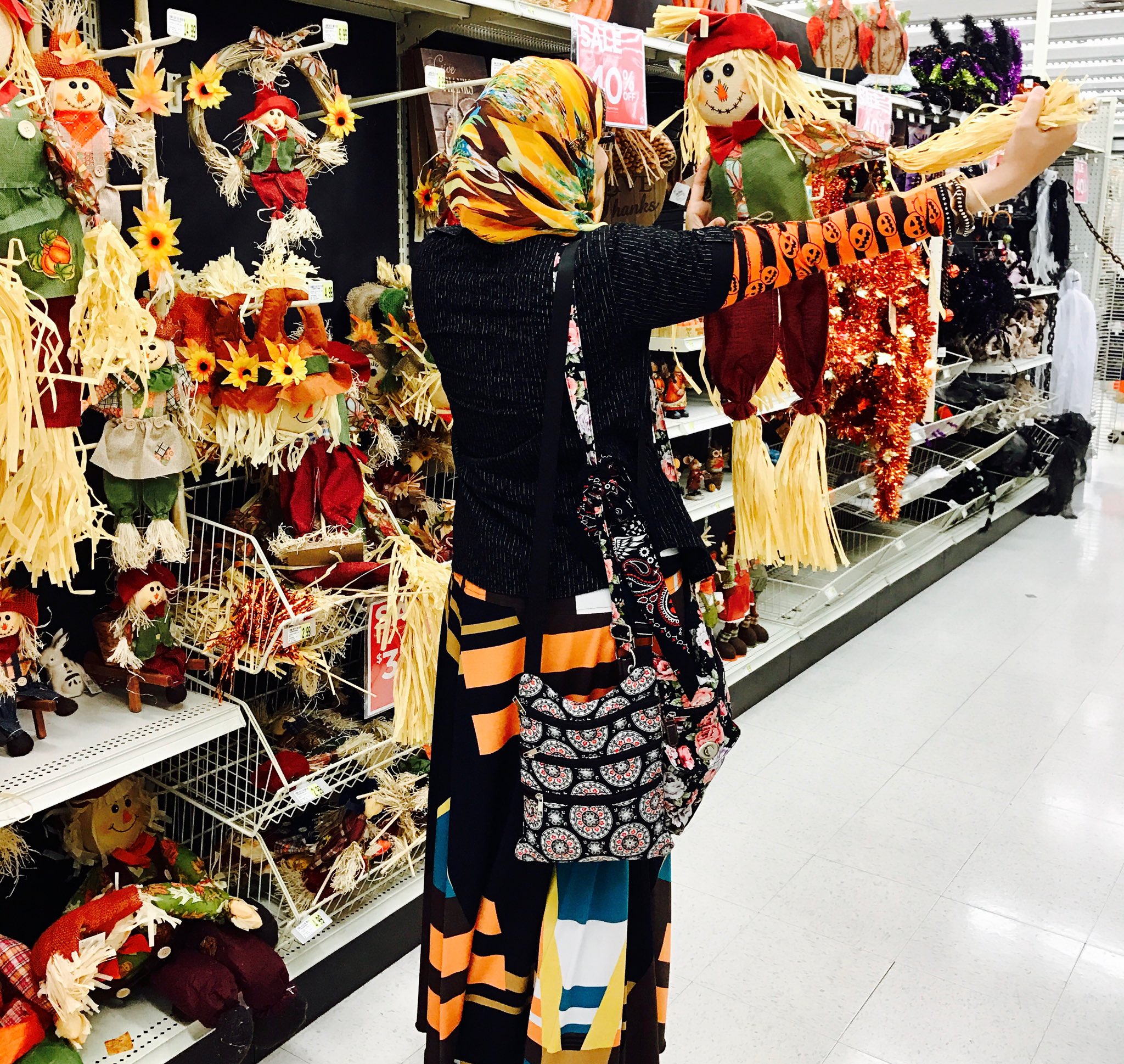 Oct 04 Superstition OR Logic
I like daring superstition because I don't believe in any of them. Well, here's one. I opened the Platform Nine and Three Quarters umbrella indoors and I am still standing! Photo courtesy: Sara Writes
Oct 05 Headstone OR Mausoleum
Well, I am trying to rest in peace in there. In Spring/Summer this arrangement was a fairy garden. Well, seasons change.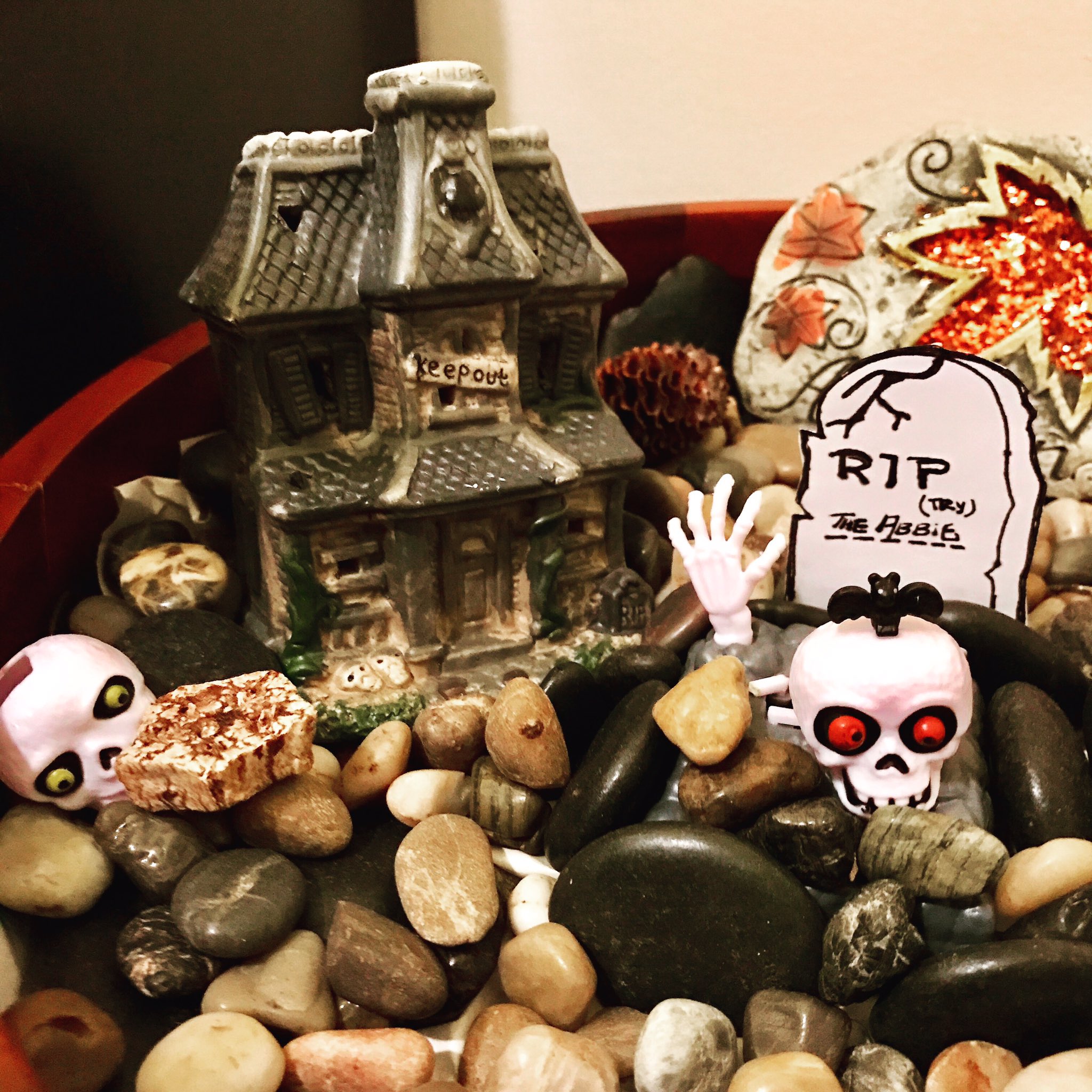 Oct 06 Darkness OR Bones
AC Moore always has eyecandy.
Oct 07 Troll OR Owl
I intercepted the owl Sirius Black sent to Ron. Pigwidgeon, you're mine.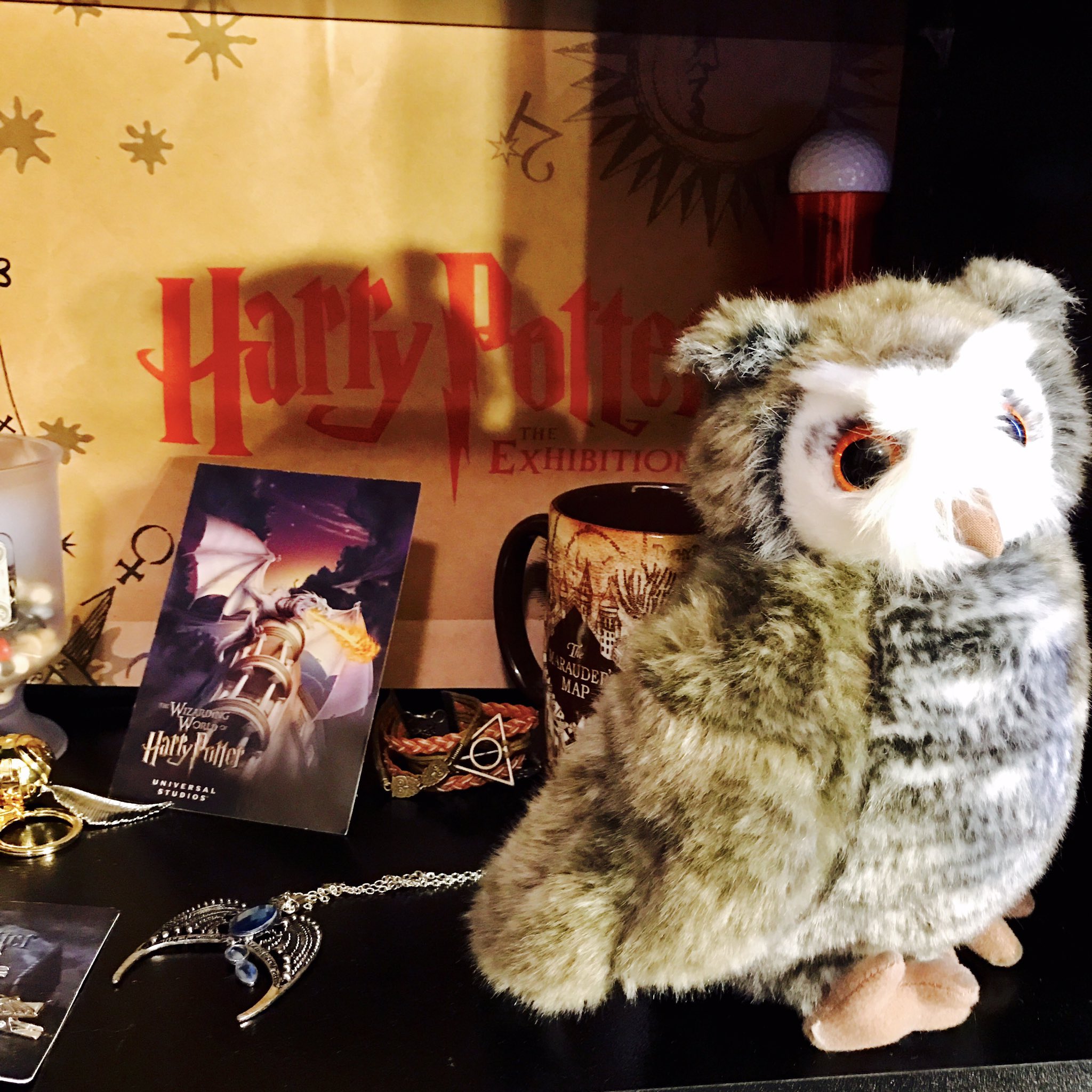 Oct 08 Fog OR Shadow
Borrowed from Sara, this is the Harry Potter Chibi Plush toy. That's the shadow part on the wall. I personally felt the noir and the blue filters have it a surreal look. The plush is from Hot Topic!
Oct 09 Fairy OR Fangs
The Monster Book Of Monsters is part of Hogwarts syllabus for Care Of Magical Creatures class taught by Hagrid. I got mine from the Wizarding World Of Harry Potter, Hogsmeade. It puts on quite a show when you hit the on button and set it on the floor. It growls, snaps, bites like crazy, and makes an incredible noise. Those fangs are classic. It is among one of the pricey toys of the Wizarding World, priced at $34.95. You can grab one at the Universal website.
Oct 10 Moonlit OR Vanish
I was at Niagara Falls, Canada under the full moon when September began. The waterfall was illuminated by colored lights and I feel when it hit red the scene became a Gothic visual art.
Oct 11 Coffin OR Revolting
So I did both prompts today. I managed to find the perfect coffin at Michael's and put it up against their Halloween displays. And the gooey, squishy rubbery rodent is best suited for 'Revolting'.
Oct 12 Mystical OR Lantern
There is no one as mystical, as uncanny, and as insane known to me but myself. The day I find one, I'd treat myself. O, and there's a lantern there as well.
Oct 13 Disguise OR Face Paint OR Friday The 13th
I am the master of disguise, lady with many silhouettes and avatars. Being hidden does not mean you cannot be an expressionist.
Oct 14 Familiar OR Strange
The Hogwarts Express steam engine is my most beloved familiar.
Oct 15 Gourd OR Punch
The gourd in the photo is the pumpkin candy holder okay. Just to be clear.
Oct 16 Carve OR Colourful
That has to be the most colorful shop at the Wizarding World of Harry Potter.
Oct 17 Teddy Bear OR Action Figure
Proudly presenting my Harry Potter Funko Pop action figure. He came with the Hogwarts Express engine from Hot Topic.
Oct 18 Iconic OR Devotion
There is no better way to handle a 'Devotion' prompt than to show my Harry Potter collection. My room is dedicated to my fandom.
Oct 19 Water OR Wood
They sell regular water as Gilly Water at the Wizarding World Of Harry Potter. I actually paid $4 for plain water because I wanted this bottle!
Oct 20 First OR Last
This was my first Harry Potter DIY project for Sara's 21st birthday. The Hogwarts Express and Platform Nine and Three Quarters structures are made from styrofoam/printables. I made chocolate frogs from mold and candy melts. The second photograph is a continuation of course (couldn't stop there). I made mini versions of Hagrid's cake that he made for Harry on his 11th birthday.
Oct 21 Patterns OR Stereotype
Oct 22 Angels OR Art
Writing with chalk on a clean slate is very soothing. I speak in poetry when I need to address some serious facts.
Oct 24 Career OR Sport
My career, my sport!
Oct 25 Sweet OR Savory
There's no better mention of 'sweet' than my Honeydukes Cake. I baked and decorated this beauty with 100% supervision from Sara (Sara's Baked Creations) because let's be honest folks I am no baker/decorator.
Oct 26 Pawprints OR Footprints
Footprints! The Marauder's Map is at the top of my mind. That's my Marauder's Map comforter that I sleep in each night starting this October. I wish I was Harry though, eating chocolate under my blanket with the tip of my wand lit up and checking out the animated footprints.
Oct 27 Peace OR Conflict
My little niece is a warm, fuzzy bundle of joy. I hold her close to my heart in a cuddle and that is definitely the only peace I find in the day.
Oct 28 Curse OR Blessing
My tribute to the Curse of 2017. I was at Times Square this weekend and I just had to mock at the ball! When it falls on new Year's Eve, I'd be the happiest!
Hunter fish. This was at the Ripley's Aquarium in Toronto Canada this September.
Oct 30 Rain OR Shine
Rain or shine. Me for myself. Because no one else will be around.
Oct 31 Celebrate OR Solitude
Celebrating solitude - a brief little moment - in Central Park, New York City.