— Aßßie (@theabbies) October 11, 2015
Fall is finally here. I have the
Fall Bucket List
up and ready. I am officially announcing
OctoNovember
. The months are commemorated as a couple in the family because all ladies have their birthdays distributed through them. I, in particular, celebrate life during these two months because I am a Fall baby and that is when my world starts re-aligning itself on the very crazy axis it spins on. I do a couple of amazing, soul-fulfilling creative projects during these months: October Photography Month (OctoPhoMo) and November Journaling Month (NoJoMo). There are two newer ones I have added to the list. Read on to find out.
Birthdays = Cake
.
Sara's Baked Creations
has been buzzing with excitement. The first cake of the season that went up was a craftsy knitting cake on Mom's birthday. She is a big knitting and crocheting expert. She had long forgotten her hobby/skill and after 28 years she started again as my November-born niece came into the family. It was winter time and Mom started weaving sweaters, socks, and caps again. Check for more photos on Sara's Baked Creations
Knitting Cake Album
. Another insanely delicious wonder cake Cookies and Cream was done for S.I.L.'s birthday and that remains secret until Sara's cake reveal is done on her Facebook Page.
Sara's Baked Creations: "

Buttons, needles, pin cushions, yarn, ribbons, and what not! This one is a fantastic cake with a perfect craftsy feel!"
OCTOBER CREATIVE PROJECTS
I am working on two creative projects in October. The
October Photography Month 2015
[OctoPhoMo] and the
October Poetry Writing Month 2015
[OctoPoWriMo]. Both are going pretty well. I often lag behind in poetry because it takes at least an hour for me to compose a poem on a given prompt. But OctoNovember aligns all my creative nuts and bolts together so the machine is running full swing. Next month, November, I am enrolling for National Novel Writing Month. I will attempt to write 50,000 words of the novel I have in my head. It is a social drama, but I have good hopes from it (if not high).
My personal creative projects include a family newsletter that I fondly named Madhouse News. It went up on the fridge! I am printing that out on my black laser jet but I do feel there should be color in those photographs.
I was also published on
Bloglanders
, a monthly ezine by Areeba Siddique - the talented young author of
Not Your Type Blog
. I wrote my heart out on the theme "Relationship With Your Blog". Areeba is a highly skilled blogger and a social media enthusiast and I adore the way she and her twin sister Noor rock the blogosphere. They remind me of how I started off as a blogger - an 18 year old full of explosive energy and a ton load of words to create magic with.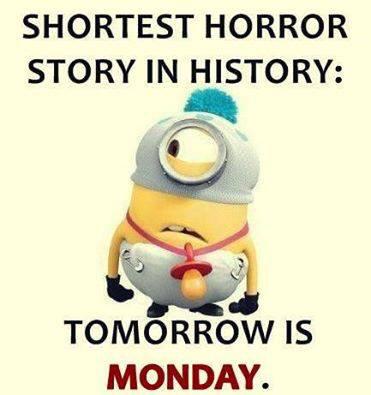 The weekend's run away like it escaped from an asylum. That bit is coming from my Netflix horror binge. I have been watching Supernatural and American Horror Story Asylum. Supernatural is a sophisticated, good, intriguing watch. It has mystery and suspense weaved together with horror. American Horror Story is not going to stay on my list for long because it is practically the kind of garbage that is about putting perversion and gore on screen. There is no time and tolerance for that.
— Aßßie (@theabbies) October 10, 2015
From what is left of Sunday, I am still excited about sitting down with a cup of Chai and watch the premiere of the reality show Bigg Boss Season 9 (India). It is hosted by the outstanding actor, Salman Khan. A bunch of celebrity contestants are made to live together in the Bigg Boss house for a couple of months. Social politics and drama takes over. The audience sees the happenings of this drama. The contestants are gradually voted out based on audience liking and a winner takes home a mighty prize. There is too much drama that goes on in a Desi woman's life. For a change, seeing it on reality TV is a big comic relief!